Robert D. ("Bob") Tisinger

One of Our Founders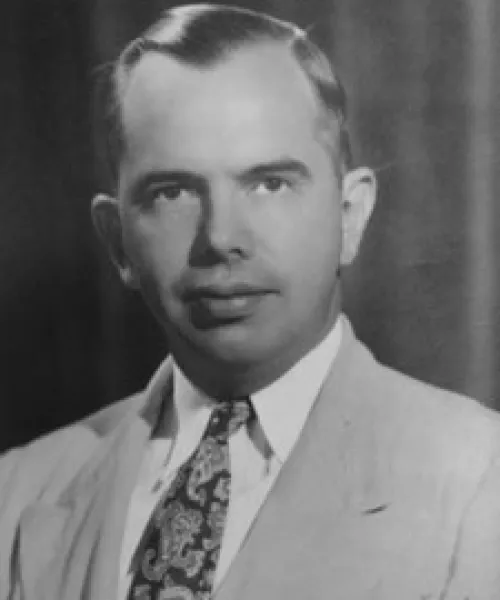 Robert D. ("Bob") Tisinger
Service to Clients and the Community
Bob Tisinger was born in 1908. He was the last of nine children.
In elementary school, he was taught in a one-room community schoolhouse by his older sister. Later he attended elementary school in the small town of Bowdon, Georgia. He rode a horse to and from school and often said that his "first school bus had four legs." His secondary education continued at the Fourth District Agricultural and Mechanical School in Carrollton, Georgia. The motto of the school was, "To Learn By Doing." "Doing" for Bob included helping to raise food that helped supply the cafeteria.
As was the case with all his siblings, some form of higher education was given; his coincided with the Great Depression. During that time, while working at the Southern Railroad, he attended night school—first at Georgia Tech, and then at the Atlanta Law School.
In 1932 he returned to the family farm. The Depression-era economy was such that there was not enough business to sustain both he and Harvey in the practice of law. He farmed for a year before joining his brother in the practice in 1933.
Having been raised on the farm, however, farming was in his blood and he continued to manage the family farm, as well as practice law, until his death in 1991.
Paying Rent For Your Time On Earth
Bob Tisinger lived out one of his favorite sayings, "We ought to pay rent for our time on Earth." While engaged in a very active practice of law, he paid that rent by being a major player in bringing electricity to rural Georgia, establishing a medical center, and actively promoting infrastructure and practices to promote the conservation of soil and water.
The story of his commitment to these issues may be best told through quotes from others in the local newspaper, The Times-Georgian following his death in 1991:

Carroll County and the State of Georgia have lost one of the greatest leaders in agriculture and in soil and water conservation.
Hill Seaton
Head of the West Georgia Soil Conservation Service
The biggest thing you could say about Judge Tisinger is that he was a visionary. He could get things done.
Gary Bullock
CEO of Carroll Electric Membership Corporation
We regret the loss of such an outstanding leader and remain grateful for his long-standing commitment to expanding health care services for our community.
Jim Griffin
Tanner Medical Center
[Tisinger] was a wonderful friend of the Medical Center and to the sick and injured children who came to Scottish Rite from all parts of Georgia.

Paul E. Manners
Chairman of the Board of Scottish Rite Children's Hospital
He touched every life in the County. Everyone in Carroll County is a little bit better because of Bob Tisinger.
David Perry
County Commissioner
The first thing that would come to mind in trying to describe Bob Tisinger is he has been the embodiment of progressive thinking, of hard work, on insistence upon honesty, efficiency, and getting things done.

Stanley Parkman
Publisher of the Times-Georgian
His Legal Career

It is safe to say that Bob Tisinger brought the same energy and work ethic and creativity to the practice of law that he did in his service to the community. While there are anecdotes that could be related, perhaps the best indication of that fact is his record in the Appellate Courts of Georgia. During the most active phase of his practice as a sole practitioner, he served as attorney for appellate or appellee in 24 cases in the Appellate Courts of Georgia between 1950 and 1962. He did not win them all, but the record indicates that his efforts on behalf of his clients did not cease until he had a final answer.