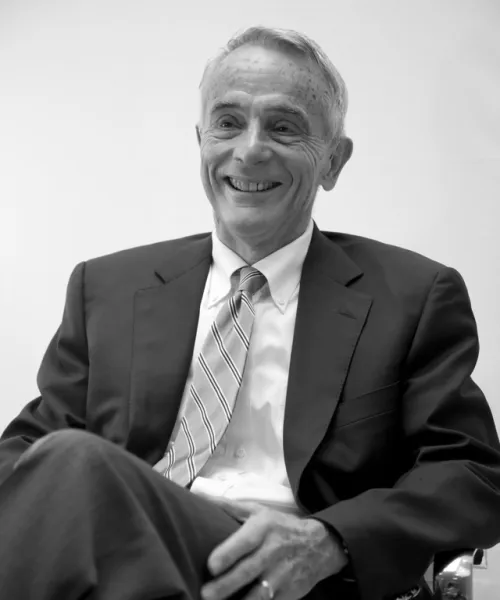 Richard Tisinger, Sr.
Richard G. (Dick) Tisinger, Sr. joined the firm in 1969. During his more than 40 years at the firm, his practice has focused on representation of rural electric cooperatives and commercial and residential real estate transactions.
In his representation of rural electric cooperatives, Dick served as general counsel for Georgia EMC, Carroll EMC, Altamaha EMC, and Excelsior EMC. He has been extensively involved in the revision, updating, interpretation and defense of EMC corporate documents, including bylaws, articles of incorporation, services rules and regulations, and policies. He has been called on many times to serve as special counsel for other distribution EMCs in Georgia who are confronted with contested board elections and "member unrest." He has litigated territory cases before the Public Service Commission and has provided general advice and counsel regarding territorial matters and has represented the interests of the state's EMCs before the PSC in other procedures affecting EMCs.
In 2009 Mr. Tisinger was awarded the Georgia Distinguished Cooperator Award by the Georgia Cooperative Council, and in 2010, the Electric Cooperative Bar Association awarded Mr. Tisinger its Lifetime Achievement Award, an award to recognize those who have advanced the electric cooperative program among attorneys, cooperatives, and their boards of directors.
Staff Contact Information
Vickie McEwen
Education & Recognition
University of Georgia School of Law
Athens, Georgia, 1965
Doctor of Jurisprudence
Honors: Cum Laude

University of Georgia
Athens, Georgia, 1963
Bachelor of Business Administration
Major: Real Estate

The Best Lawyers in America
Selected by his peers for inclusion in The Best Lawyers in America© 2015 in the field of Commercial Litigation

AV Preeminent (Highest) Peer Review Rating by Martindale - Hubbell

More About Richard
In his real estate practice, Dick has handled matters involving municipal land use ordinances, conservation easements and acquisition and development of shopping centers and residential subdivisions. Prior to the "Great Recession," Dick's practice focused on land use regulations. He led the firm's efforts in securing favorable determinations for Developments of Regional Impact for two multi-purpose developments and rezoning for these and other developments in the City of Carrollton and Carroll County.
Dick graduated third in his class at University of Georgia Law School, and was a Law Clerk to Judge J. Robert Elliott, Middle District of Georgia from 1965 to 1966 and served in the Navy's Judge Advocates General Corps from 1966 through 1969. In addition to the State Bar of Georgia, he is also a member of the American Bar Association.
Dick is a former President of the Carroll County Chamber of Commerce and a past member of the Board of Directors of Tanner Medical Foundation. He was awarded the Stanley Parkman Rotary Ethics Award by the Carrollton Rotary Club in 2009. He is Chairman of the Board of Advisors of KidsPeace, Bowdon, and a member of the Board of Directors of KidsPeace, USA, an umbrella, non-profit headquartered in Pennsylvania, serving children in crises through residential, community, and foster care in 11 states. He also serves as Chairman of the Audit and Advancement Committee of KidsPeace, USA. He is an active member of the First United Methodist Church in Carrollton, Georgia, where he teaches the Agape Sunday School Class. Also, he is an associate member of Victory United Methodist Church in Bowdon, Georgia.
Dick and his wife, Marian, have two sons and four grandchildren.