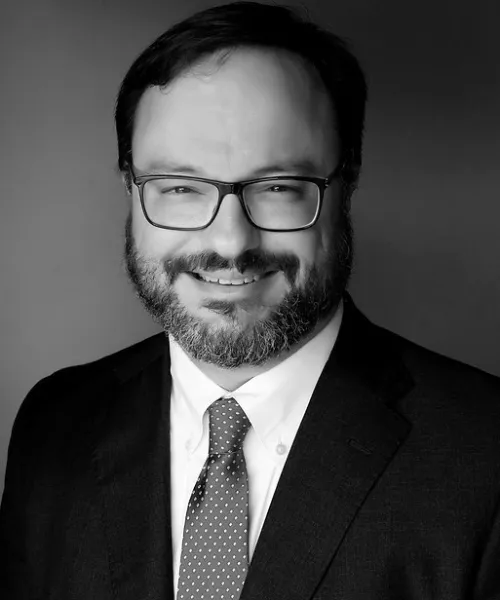 Joel Tisinger
Joel Tisinger comes to Tisinger Vance from one of the country's leading healthcare information technology companies where he served as Deputy General Counsel. Prior to serving as in-house counsel, Mr. Tisinger had a wide range of experience representing small and large size companies in numerous industries focusing on commercial transactional matters, intellectual property, and acting as "outsourced in-house counsel." His experience also includes vendor side and customer side technology transactions, SaaS Agreements, complex commercial transactions, commercial and technology dispute resolution, HIPAA compliance matters, cybersecurity and privacy matters, licensing agreements, and entertainment law matters.
Mr. Tisinger attended the University of West Georgia and earned a Bachelor of Arts degree in Psychology. Afterwards, he continued his studies in the post-baccalaureate program at Georgia State University in music business. He earned his law degree in 2003 from Mercer University and moved to Nashville, Tennessee, where he ultimately opened his own firm on Music Row.
Staff Contact Information
Vickie McEwen
Monica Sharp
Education & Memberships
Mercer University, Walter F. George School of Law
Macon, Georgia, 2003
Doctor of Jurisprudence

Georgia State University
Atlanta, Georgia, 1998
Post Baccalaureate Studies
Music Business

University of West Georgia
Carrollton, Georgia, 1995
Bachelor of Arts
Major: Psychology
Professional Membership
Georgia Bar Association, Member

More About Joel
Joel is originally from Carrollton and returned here in 2010 after practicing in Nashville for seven years. He is married to Erica and has two children; the family attends and is actively involved in Carrollton First Baptist Church. He also volunteers for a number of organizations including committee volunteer and sponsor for Tanner Medical Foundation's Magnolia Ball, benefitting Tanner Medical Center; orchestra member for Carrollton First Baptist Church and Carrollton First United Methodist Church; previous legal counsel for T. J. Martell Foundation for Cancer, Leukemia and AIDS Research (Nashville); and coach for the Carrollton Parks, Recreation, and Cultural Arts Department.
Joel is a board member and secretary for Friends of Spirit, Inc., a Georgia non-profit committed to youth athletic and art programs including Spirit of Atlanta Drum and Bugle Corps.