Harvey H. Tisinger

One of Our Founders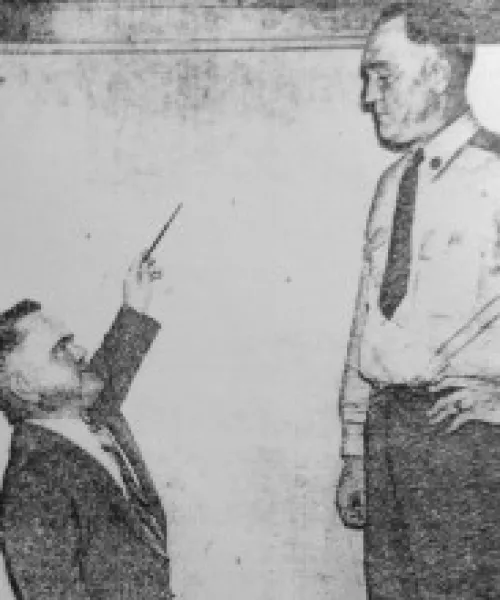 Harvey H. Tisinger
A Small Man Who Lived Big
Harvey was born in 1898 on a farm in west Carroll County, the fifth of nine children. At the age of nine months, he was stricken with an unknown illness that limited the growth of his body to 4 feet 3 inches. As a child with physical limitations, Harvey showed the tenacity that would be his trademark at the University of Georgia and in the practice of law. At 12 years of age, he sawed the handle off a hoe so he could chop cotton. At 14 years of age, it is said that he could pick 200 pounds of cotton a day.
According to a profile in the Atlanta Journal, he tried to play baseball as a youth. He was very successful in drawing walks, but was not successful in the other aspects of the game. (The same article reported that he later became an expert marksman and worked out in the Y.M.C.A. several times a week.)With the support of his older brothers and sisters, Harvey entered the University of Georgia seeking a degree in commerce. He thought this would be the best way to make a living and help his parents and siblings, who still relied on cotton as a cash crop. He received his degree in commerce in 1920.
His Time in School
While in undergraduate school, he was inducted into the Honorary Business Fraternity, later Gamma Sigma, was elected president of the Economic Society, secretary/treasurer of the Student Council, and secretary of the Athletic Association. He also was a member of the Glee and Mandolin Club, was a cheerleader for the athletic football and basketball teams, and participated in other campus organizations.
After receiving his degree in commerce, Harvey sought his employment in Atlanta. He borrowed money, but was unsuccessful. Not being discouraged, he borrowed money from his siblings and sought employment in New York City, where he met similar disappointing results. In the profile in the Atlanta Journal, Harvey was quoted as saying, "Everywhere I went, the executives and personnel managers turned me down flat, without even giving me a mental examination. That was the first and last time I ever found my size as a real handicap in the business world, but I refused to let that get me down, although I was feeling pretty low when I came dragging home. There was still the law. A lawyer isn't hired by a personnel manager, and the people around Carrollton where I intended to practice knew the stuff I was made of and what I could do." (He was first encouraged to study law by a professor at West Georgia Agricultural and Mechanical School who saw him win a debate contest.)
In law school, Harvey continued participation in a number of organizations of which he was involved in undergraduate school. The same leadership qualities that put him in leadership positions in undergraduate school were further manifested in law school. He was selected as a "Counselor," vice president of the Demosthenian Society, vice president of the Senior Class, and president of the Athletic Association. His quote in the Pandora, the University's yearbook, evidenced his personal ethics: "If you've managed to keep your own respect, you needn't worry about that of others; you'll have it."
More About Harvey H. Tisinger
Following graduation, Harvey did return to Carrollton and practiced law there from 1922 to 1934. He undertook the general practice of law as a sole practitioner but also served in federal bankruptcy court as a "referee in bankruptcy."
As noted above, after his brother joined in the firm, Harvey left Carrollton and assumed the position of an Assistant U. S. District Attorney. He served in that position from 1934 to 1958. Upon his retirement, it was reported that he had served six attorneys general, four district attorneys, and represented six federal wardens at the U. S. Penitentiary in Atlanta. During his tenure, he convicted approximately 2,500 defendants and handled almost 1,800 habeas corpus proceedings.
After his retirement from the U. S. District Attorney's office, Harvey continued to practice law in Atlanta. He died in 1959.